Joe R. Lansdale is one of the many authors I collect, who's a damn fine writer in addition to being a friend and mentor. But for more than two decades, one of Joe's rarest hardbacks continued to elude me.
Until now.
Lansdale, Joe R. (writing as Ray Slater). Texas Night Riders. Chivers Press/Curley Publishing, 1991. First hardback edition (preceded by the 1983 Leisure Books paperback original), an ex-library copy with minimal markings (a stamp on front free endpaper), otherwise VG in decorated boards with bumping along extremities, sans dust jacket, as issued. Part of the Large Print Atlantic Western line. Hankow, A Checklist of Joe R. Lansdale, A3b.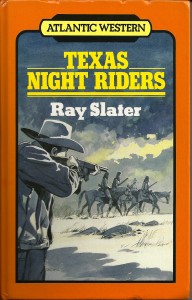 Pseudonymous western novel, and Joe's third published book. My understanding is that the overwhelming majority of all large print editions are sold to the library market. Easily the rarest Lansdale hardback, and possibly the second rarest Lansdale book behind Molly's Sexual Follies (which I also have).
Since this is so bibliographically rare, I thought I would scan the back cover, title page, and copyright page for fellow Lansdale bibliophiles and librarians.