I continue to close in on my complete Jack Vance hardback first edition collection.
Vance, Jack. To Live Forever. Ballantine books, 1956. First edition hardback, a Fine- copy in a Near Fine- dust jacket with slight spine fading and tiny (1/32″) chipping at head and heel. Signed by Vance. Currey (1978), page 500, A1 (dark blue) binding. Hewett, A4ab.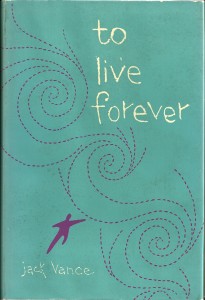 Very nice copy of this early Jack Vance novel, and a middling difficult Ballantine hardcover.