Picked this up from a recent Heritage Auction:
(Burroughs, Edgar Rice) McWhorter, George T. Edgar Rice Burroughs Memorial Collection: A Catalog. House of Greystoke, 1991. First edition oversized trade paperback original, a Fine copy in vinyl overlay wraps. Inscribed by McWhorter: "To my good friends Roy and Dela White — who have stood by me/in this publishing ordeal. Best wishes! George T. Mcwhorter — 11/11/91". With the Roy and Dela White library collection slip laid in. Comprehensive bibliography of the Burroughs collection at the University of Louisville by the curator. Won off the Heritage auction of the White Burroughs collection for $16, plus buyer's premium, plus shipping.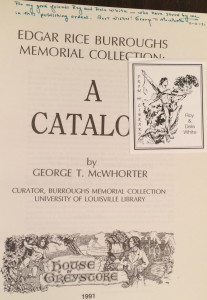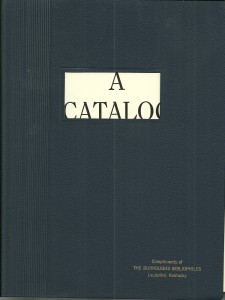 Burroughs is typically before the period I collect, his important firsts generally go for far more than I'm willing to pay, and Burroughs bibliophiles are a world unto themselves. But I am big on SF/F/H reference works and bibliographies, and was happy to snag this for a lowball bid. Though it has some overlap with the Heins bibliography (which I also have), McWhorter is a lot more heavily illustrated.
More information on the Louisville Burroughs collections here and here.