Only doing a separate blog post on this to illustrate a few points about bookselling and collecting.
Brown, Dan. The Da Vinci Code. Doubleday, 2003. First edition hardback (price of $24.95 on flap, "First Edition" and "10 9 8 7 6 5 4 3 2 1" numberline on copyright page), a near Fine copy with owner blindstamp on front free endpaper, in a Fine- dust jacket with a small crease to bottom corner of front flap.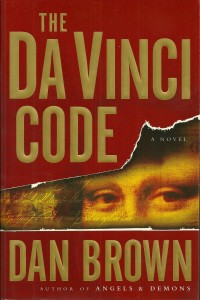 The multi-million bestseller. At one point people were getting big bucks for first printings. This copy? I bought it for $2 from the "Nostalgia Bargain" section of a Half Price Books.
Sic transit gloria mundi…
Tags: Books, Dan Brown, First Edition