Not particularly an Atwood fan, but I got it very cheap for a signed, limited edition by a major author:
Atwood, Margaret. The Year of the Flood. Bloomsbury (UK), 2009. First edition hardback, # 653 of 1,000 signed, numbered copies, a Fine copy in decorated boards with silver gilt edges, in a Fine slipcase, sans dust jacket, as issued. Bought for $7.50 at Half Price Books, marked down from $15 with a 50% off coupon. (I suspect that Half Price got a few copies quietly remaindered from the publisher, as they often do for UK books.)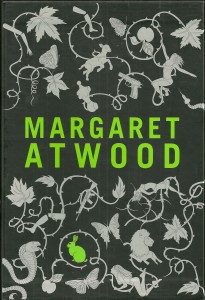 That's a picture of the front of the slipcase, as there's no writing on the book itself except on the spine.
According to the ISFDB, this limited edition is a true first (simultaneous with the trade hardback and trade paperback states), and was originally issued at £75, so I got it for less than 1/10th cover price…
Tags: Books, Limited Editions, Margaret Atwood, Science Fiction