A science fiction bookdealer I know had some sudden veterinarian bills he had to take care of, so he let me pick up a fairly rare Jack Vance item as part of a cash-and-trade deal:
Vance, Jack. The Seventeen Virgins & The Bagful of Dreams. Underwood/Miller, 1979. One of only 111 signed hardback copies, a Fine- copy with a tiny bump to bottom front boards in a Fine dust jacket. Hewett A58b and A59b. Two Cugel the Cleaver stories. Originally published as two separate chapbooks in editions of 600 each, this hardback was done from those sets of sheets, and is probably the smallest hardback print run for any Vance book.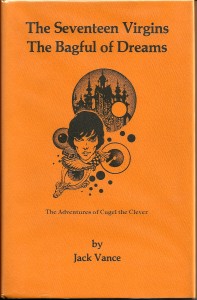 Discounting the Vance Integral Edition (for which there are actually more sets available) and some odd variant states (like presentation and lettered copies) this is probably the single hardest Vance hardback to find.
Tags: Books, Dying Earth, First Edition, Jack Vance, pics, Science Fiction