Today's dose of Shoegaze comes to you from all-girl Canadian Shoegaze duo No Joy for their song "Pacific Pride."
Interestingly, their video seems to be taken entirely from the 1966 Czech surrealist/absurdest film Daisies, which I was previously unaware of, but which seems to have quite a cult following. It shows up on the list of 1,001 movies to see before you die (which is a pretty good list), and looking at clips, it's tempting to say that acid arrived in Czechoslovakia a year before the Summer of Love, as it looks pretty trippy, a film where the sixties became The Sixties. It also appears to be part of the Criterion collection Eclipse Series 32: Pearls of the Czech New Wave.
I think I'm going to have to see this some time.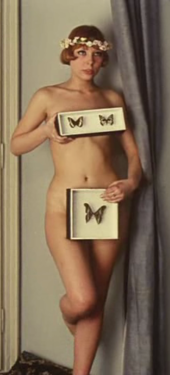 The whole film is available on YouTube so, hey, here it is.
Looks like you'll need some 3D glasses for part of it…