Another reference work to file right next to the same author's Encyclopedia of Fantastic Victoriana:
Nevins, Jess. The Encyclopedia of Fantastic Pulp heroes. Lulu Press, 2017. First edition hardback, a Fine copy in decorated boards, sans dust jacket, as issued. Non-fiction reference work covering fantastic pulp heroes from 1902—1945. Bought for $22.49 the first week of publication.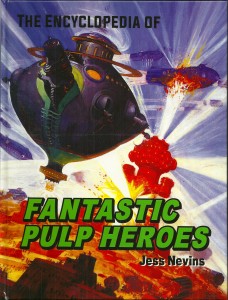 Lulu Press is a POD outfit, and this work will evidently be incorporated into a larger, electronic-only encyclopedia of pulp heroes (fantastic and otherwise) forthcoming from Amazon.