Another addition to my science fiction story/poem postcard collection:
Le Guin, Ursula. To Siva the Unmaker. Science Fiction Poetry Association, 1980. First edition postcard, a near Fine copy with a faint dime-sized stain. Signed by Le Guin. Bought for $15 off eBay.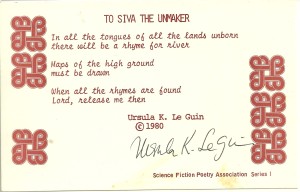 I have two other Le Guin postcards, but this is the only one that's signed.