Posts Tagged 'Star Wars'
Wednesday, May 3rd, 2017
Picked this up at Half Price Books, and while not along my usual collecting vectors, I knew enough to pick it up.
Foster, Alan Dean (writing as George Lucas). Star Wars: From the Adventures of Luke Skywalker. Ballantine Books, 1976. First edition paperback original (as indicated both by the "First Printing 1976" statement on the copyright page, and by the original Ralph McQuarrie artwork on the cover, which was dropped from all subsequent reprints), a Very Good copy with cover creasing, bottom front corner crease, and general wear.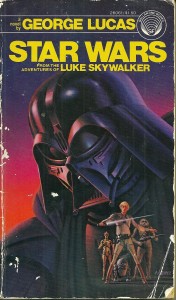 Although McQuarrie helped design many of the characters, the versions on the cover of this paperback varies wildly from their on-screen counterparts, and every other subsequent piece of official Star Wars art.