Nineteen times out of twenty, when you put in a lowball "what the hell" bid at an auction, you don't win. You keep doing it because of that twentieth time.
This was one of those twentieth times.
Robert W. Chambers. The King In Yellow. F. Tennyson Neely (as part of their Neely's Prismatic Library series), 1895. First edition, first printing of green cloth with brown lettering, with lizard design on cover and review of In the Quarter at rear. Rubbing and soiling to cloth with front hinge cracked, top front corner and bottom rear binding soft, and lacking front free endpaper. The auction description said fair, but save the front free endpaper, the book looks intact, so I would grade this Good only. Jones & Newman, Horror: 100 Best Books, item 19 (appreciation by H. P. Lovecraft). Beliler, The Guide to Supernatural Fiction, item 364. Bleiler, The Checklist of Science Fiction and Supernatural Fiction (1978), page 41. Locke, A Spectrum of Fantasy, page 49. Barron, Horror Literature, item 2-12.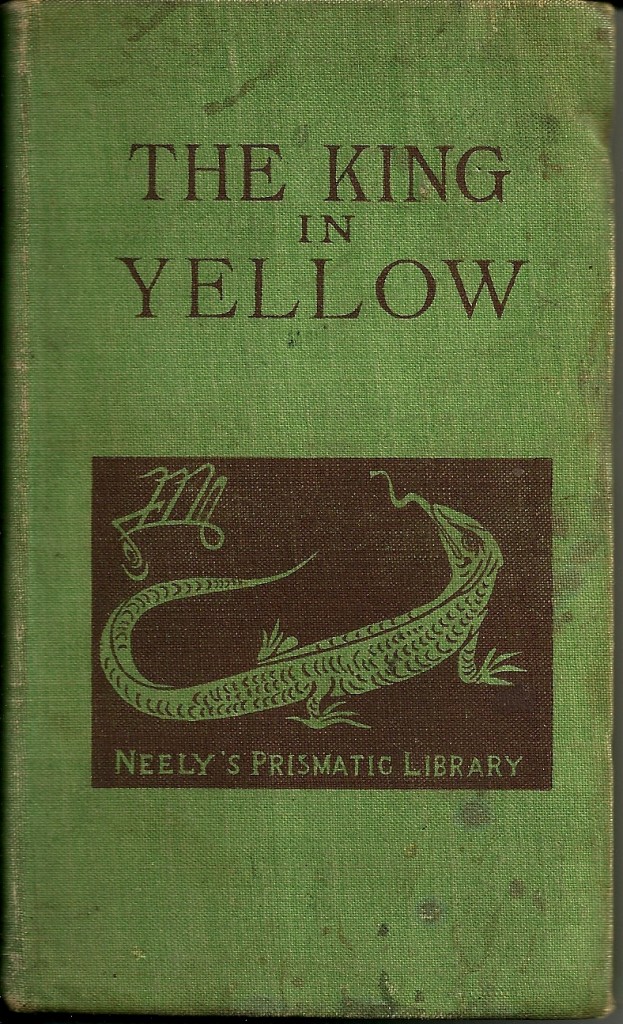 Short story collection, roughly half of which are weird tales, most of which reference the play The King in Yellow, which drives people mad. (If memory serves, those stories also count as science fiction, being set in a future dictatorship.) One of the most important supernatural works of the late 19th century, and a huge influence on H.P. Lovecraft, who incorporated elements from it into the Cthulhu Mythos.
Bought for just over $60 (including buyer's premium and shipping) at auction. Earlier than the period I usual collect for, but i couldn't pass up the chance to pick up a keystone work (even a considerably less than perfect copy) at a bargain price.