Over on my post about the first hardback edition of Texas Night Riders, reader Jason Bovberg asked for a scan of Joe's rarest book, the pseudonymous porn novel Molly's Sexual Follies, since he had never seen one before. I checked online, and indeed there seem to be no scans of this book's cover, so here's a scan of my copy.
Lansdale, Joe R. with Brad Foster (as Mark Simmons). Molly's Sexual Follies. Beeline Books, 1982. First edition paperback original, a VG- copy with considerable creasing and 1/2″ of separation between front cover and spine at heel.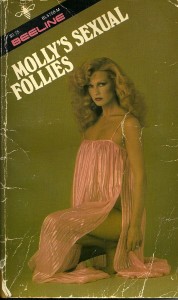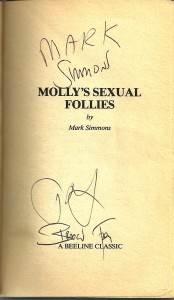 Any other rarities from The Person Collection (he said vaingloriously) people want to see?
Tags: Books, Brad Foster, First Edition, Joe R. Lansdale, porn