Here's a Philip K. Dick bibliography I tried to order copies of for Lame Excuse Books when it came out back in 2012, but the publisher didn't want to deal wholesale.
(Dick, Philip K.) Wintz, Henry and David Hyde. Precious Artifacts: A Philip K. Dick Bibliography: United States of America and United Kingdom Editions 1955-2012. Wide Books, 2012. First edition hardback, #77 of 100 signed, hardback copies, a Fine- copy with slight delamination lift along top front spine join gutter, in decorated boards, sans dust jacket, as issued, with errata slip and related postcards laid in. Bought off eBay for $26.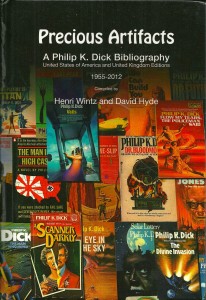 This is not a review, since I haven't read all of the book, but flipping through it, there's been something to irritate me on almost every page:
The books are split into four categories (science fiction novels, mainstream novels, short story collections, and non-fiction) rather than (as with Levack's PKD) including all the book-length fiction is one listing.
Within those sections they're arranged alphabetically, but not the alphabetical order every single other bibliography in the world uses. Looking for A Maze of Death under M? Sorry, not there. It's under A. Likewise every book that starts with The is found under T.
Within the listings for individual books, the various editions are not listed in a single list of chronological order, but broken up into U.S. and UK editions, making it harder to tell at a glance the true first edition, the first hardback edition, etc.
There's an overall chronology of when books were written and published at the back, but it only covers books published during Dick's lifetime.
The collector's notes for individual titles are incomplete and infuriatingly random; the "Quick Guide to Collectable Editions of Philip K. Dick" by Frank Hollander is considerably better, but still a bit vague in places.
Etc.
That said, there's still a lot of good information found nowhere else on various PKD editions, including thumbnail color pictures of editions (including one showing the different SFBC spine colors for The Man in the High Castle, covering the books published after Levack, etc. But organization is so poor that it makes it far more difficult to find anything than it should be…