It's another Michael Swanwick Dragonstair Press book with a ridiculously short print run:
Swanwick, Michael, with Marianne Porter. Fallen Leaves. Dragonstairs Press, 2016. First edition hardback, number 17 of 20 signed, numbered copies (the only edition), a Fine copy, sans dust jacket, as issued, with spine label affixed.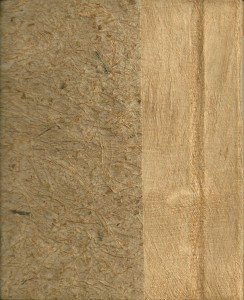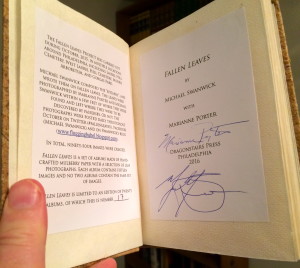 Says the Publisher:
The Fallen Leaves Project was carried out during October, 2015, in multiple locations around Philadelphia, including Laurel Hill Cemetery, West Laurel Hill Cemetery, Morris Arboretum, and Gorgas Park.

Michael Swanwick composed "epitaphs", and wrote them on fallen leaves. The leaves were photographed by Marianne Porter and Michael Swanwick within a few feet of where they were found and left where they were, to be discovered by passersby. Or not. The photographs were posted daily throughout October on Twitter, Facebook, and Swanwick's blog. In total, ninety-four images were created.

Fallen Leaves is a set of albums made of hand-crafted mulberry paper, manufactured by Karin tribe members, with a selection of leaf photographs pasted in. Archival glue was used throughout. Each album contains fifteen images and no two albums contain the same set of images. Fallen Leaves is limited to an edition of twenty albums.
The book sold out pretty much the same day it was announced…
Tags: Books, Dragonstairs Press, Michael Swanwick, Science Fiction, signed, small press publishers