Two library additions of Harlan Ellison non-fiction books from two different purchases.
Ellison, Harlan (edited by Andrew Porter). The Book of Ellison. Algol Press, 1975. First edition hardback, one of only 200 hardbacks, a Near Fine copy with bumping at head and heel, sans dust jacket, as issued. Inscribed by Ellison: "For Malcolm, Friend, from/Harlan Ellison." Collection of essays. Bought from a UK dealer for £33.
(Ellison, Harlan). Slusser, George Edgar. Harlan Ellison: Unrepentant Harlequin. Borgo Press, 1977. First edition chapbook original ("First Edition———April 1977"), a Fine copy. Signed and dated ("4/18/95") by Ellison. Critical work on Ellison. "The Milford Series Popular Writers of Today: Volume Six." Bought of eBay for $13.05.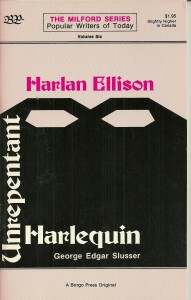 Tags: Books, Harlan Ellison, reference works, Science Fiction