Earlier this year, science fiction writer and North Carolina State University professor John Kessel declared that "I know the world does not care, but nobody could pay me enough money to go see The Hobbit. Well, maybe someone could, but nobody is going to."
The Internet knows how to respond to such statements.
Soon a fundraiser for the SFWA Emergency Medical fund was launched, with various levels of funding support:
$250 — Prof. Kessel goes to see The Hobbit (the upcoming Peter Jackson version, in a movie theater before the end of the year, no cop-out home screenings of the Bass-Rankin animated classic)
$750 — Prof. Kessel will either before or after the film eat Denny's The Hobbit-themed Ring Burger
$1000 — Prof. Kessel will dress as Gandalf when watching the film
$2500 — Prof. Kessel will dress as Galadriel when watching the film
And the result?
Well, feast your eyes: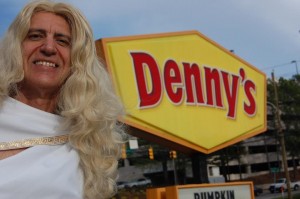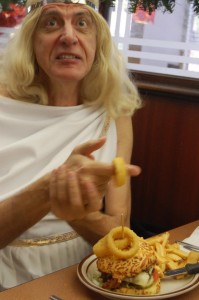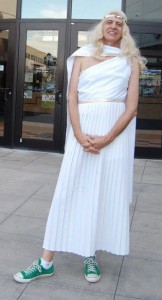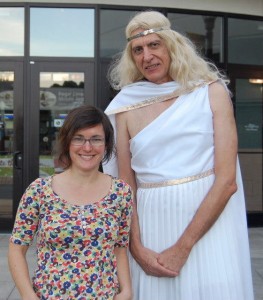 The last picture is with John's "Hobbit escort" Kate Maddalena, who took these pictures.
Click any picture to embiggen and more fully display all of John Kessel as Galadriel's, um, glory.
If you're impressed by this outstanding display of selflessness (or else you have a fetish for really tall, butch trannies), you too can donate to the SFWA Medical Fund.
You might also pick up one of John's swell books, like Good News From Outer Space, Corrupting Dr. Nice, or his short story collection The Pure Product.
(And thanks to John and Kate Maddalena for permission to use these photos.)
Tags: Fantasy, Galadriel, J. R. R. Tolkien, John Kessel, Peter Jackson, pics, Science Fiction, The Hobbit, The Lord of the Rings