I was recently able to pick up two rare Jack Vance first editions, one of them one of his most difficulty hardbacks, the other a recent chapbook not even my hardcore Jack Vance collecting friends had heard of.
Vance, Jack (writing as Ellery Queen). Four Men Called John. Gollancz Detection, 1976. First hardback edition a Fine- copy in a Fine- dust jacket with a tiny bit of crimping at head, and a few faint invisible, non-breaking surface scratches. Hewett, A14j. Actually, Jerry Hewett was the one who picked this up for me, since he knew I was looking for it…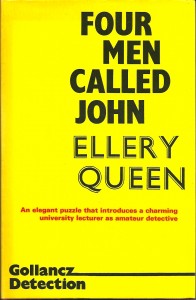 Vance, Jack. The Avatar's Apprentice. Sadlark Press, 2011. First edition chapbook, number 18 of 30 copies printed from photopolymer plates, a Fine copy, new and unread. According to the publisher "I collected all the excerpts from the five Demon Princes novels that dealt with the Avatar's Apprentice: Scroll from the Ninth Dimension, and put them into one book. I letterpress printed, illustrated, and hand bound an edition of thirty-five. I used photopolymer to print all the text and images in this book." I've confirmed with the publisher via email that the edition is actually the 30 stated on the limitation page at back.
Not in any standard online reference sources. I found it via a Google image search for "Jack Vance chapbooks". I can't help thinking that this is going to drive some Jack Vance completists absolutely bonkers.
Tags: chapbooks, first editions, Jack Vance, Science Fiction