I'm still recovering from the 2013 Worldcon, LoneStarCon 3 in San Antonio.
Given how often I blog about additions to my science fiction library, you might be surprised at how parsimonious I am paying for those additions. From about 1985 (when I first started buying first edition hardbacks) to 1989, I never paid more than $35 (plus shipping) for a book, which was about what it cost you to buy a UK hardback from an SF book dealer like L. W. Currey, Mark Ziesing, Robert Weinberg, etc. at the time. (And you bought it from a catalog you received in the mail, called them up to hold the book, then sent them a check. No ordering from the Internet or paying via Paypal. Now get off my lawn!) Then I found a NF/VG+ copy of The Haunting of Hill House for $45 at the 1989 Boston Worldcon, and the dealer wouldn't budge on the price, so I coughed it up.
As I made more money at my day job, I could afford to buy more expensive books, and the amount I was willing to pay for a single book slowly and surely crept up. Eventually I ended up spending $400 for a very clean, signed, ex-library edition of Roger Zelazny's Lord of Light. Since then I've spent around $400 for a few more books, but have only exceeded that mount thrice:
I ponied up $1,250 for the 44 volume Jack Vance Integral Edition (plus $350 or so in shipping). But that's less than $30 a book…
I paid $675 for an ultra-limited edition of Stephen King's The Colorado Kid (10% off cover price) because, while I'm not one of those fanatic King collectors, I do like his work and, well, I certainly wasn't going to lose money on it.
I spent $500 on a first edition of George Orwell's Nineteen Eighty-Four.
But I've never spent more than $675 for a single book.
Until now:
Weinbaum, Stanley G. Dawn of Flame. Ruppert Printing Service (for The Milwaukee Fictioneers), 1936. One of only 245 copies of the Currey B state (with the Lawrence A. Keating introduction), a Near Fine+ copy with very faint spine creasing and either slight gray staining to bottom page block (or possibly where the red page block staining has worn away), sans dust jacket, as issued. Currey, page 510. Chalker/Owings, page 279. Bleiler, Checklist (1978), page 204. Locke, Spectrum of Fantasy (I), page 224.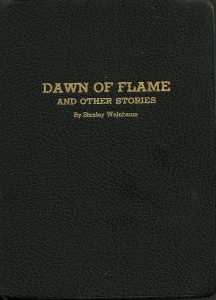 Bought at the San Antonio Worldcon for $1,200 (negotiated down from $1,500) from Erle Melvin Korshak. And if I'm remembering correctly, it was on consignment from Sam Moskowitz's widow through Robert Weinberg to Korshak. (Korshak, of course, was the owner of Shasta Publishers, and is now back in publishing as Shasta/Phoenix Publishers.)
This copy contains the ownership bookplate of Richard A. Frank, an early science fiction fan who was also an SF small press publisher in his own right, having published "The Bizarre Series" in the late 1930s, featuring works by A. A. Merritt, David H. Keller and Eando Binder.
Frank also had one of the first legendary SF collections. "Richard Frank's entire book collection was fantastic. He had it, originally, in the house, but the weight of the books had begun to pull the floors away from the the walls, so he moved it all down to his first floor garage and set it up like a real library. Most of us felt that if Richard didn't have a copy—it hadn't been printed."
That's an awful damn lot of money to spend on a book, but I've long wanted a copy, both because I love Weinbaum's work (a visionary and ground-breaking Sf writer in his day), and because this is the very first SF small press book. It's often called "the bible of the field," because it physically resembles a bible, right down to the flexible black binding, red-stained page block edges and rounded corners. Save for the one Ray Palmer introduction copy sold at the Jerry Weist Auction, this is the finest copy I've seen offered for sale recently, and I did well enough at Worldcon that I felt I could afford it.
Tags: Books, first editions, pics, San Antonio, Stanley G. Weinbaum, Worldcon