In the past few years I've obtained the signatures of H. G. Wells and H. P. Lovecraft (among many others), but wasn't able to find a verifiable signature I could afford for Philip K. Dick.
Until now.
(Dick, Philip K.) Levack, Daniel J. H. PKD: A Philip K. Dick Bibliography. Underwood/Miller, 1981. First edition hardback, one of 200 copies signed by Dick, Levack and annotator Steven Owen Godersky. A Fine copy in decorated boards, sans dust jacket, as issued. Bought for $299 off eBay at the Buy-It-Now price, which is less than half what it usually lists for.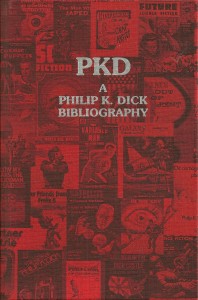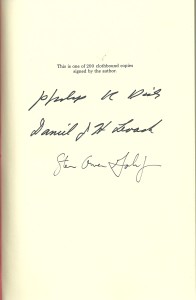 I think this was the last signed edition Dick did while he was still alive. In fact, discount the numerous posthumous "cut from a check" limiteds, I think only this and Confessions of a Crap Artist were done in signed/limited editions.
A year and a half ago, I didn't have the signed editions of any of the Levack Underwood/Miller bibliographies (Dick, Zelazny and de Camp); now I have all three.
Tags: bibliography, Books, Philip K. Dick, Science Fiction, signatures, signed