I'd been having a dry spell searching the local Half Price Books locations. I wasn't find much terribly interesting in their stacks (a few signed paperbacks here and there), and I either had everything I wanted in their collectable shelves, or they were asking too much money for marginal works.
Saturday's find made up for many, many years of dry spells, and is hands-down the best find I've ever made at Half Price Books:
Oliver, Chad. Shadows in the Sun. Ballantine Books, 1954. First edition hardback (Currey state A, tan cloth lettered in black, no priority), a Near Fine+ copy with slight bumping at head and heel and usual age-darkening to pages), in a Near Fine- dust jacket with a 1 1/2″ closed tear to rear dust jacket flap, slight spotting to top of white rear cover, and a few small rubs. Hall, Hal W., The Work of Chad Oliver: An Annotated Bibliography & Guide, A2. Currey (1979), page 397. Locke, Spectrum of Fantasy, page 169 (an ex-library copy; his description of the dust jacket matches (down to the H-91 code on the front flap), but his description of the book itself as "gray cloth in dark blue lettering" doesn't match either this copy or the Currey B state (blue cloth lettered in black); Locke's copy was possibly a library rebind or another binding variant). Barron, Anatomy of Wonder 4, 3-138. Bought for $3 from the Half Price Books in Cedar Park.
Since Google image search brings up no copies of the hardback dust jacket (only the paperback edition, which has a different cover, as they frequently did), I've done several scans of it.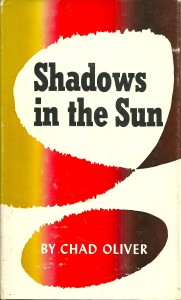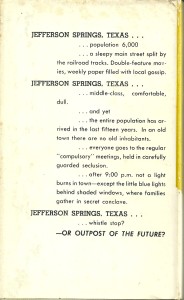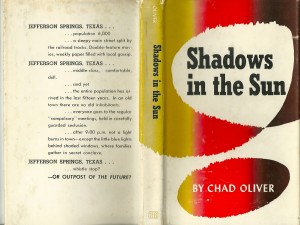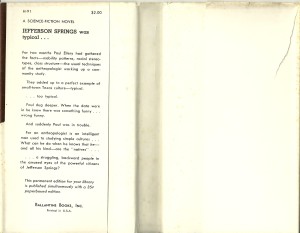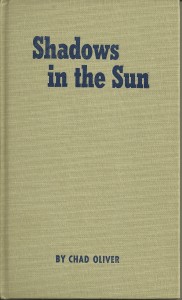 Chad Oliver was the Grand Old Man of Austin science fiction writers. In addition to writing important works of anthropological SF in the 1950s, he was Dean of the University of Texas' anthropology school for a while, and was an all-around swell guy. I knew him, but he was really more of a mentor to my mentors (Howard Waldrop, Bruce Sterling, Lewis Shiner, etc.), and had stopped going to the Turkey City Writer's workshop by the time I started attending. He died in 1993.
Ballantine Books was one of the first mainstream publishers to move into science fiction in the 1950s. They published a prestigious SF line that came out in two formats: A paperback edition for readers, and a hardback edition, scarcely larger than the paperbacks, primarily for the library market. The paperbacks had print runs in the hundreds of thousands, while I've heard 600 as a typical print run for the hardbacks. Among the most desirable titles are Fahrenheit 451 (including the asbestos-bound state, which is insanely expensive), Childhood's End (which I have an Ex-Library of), Hal Clement's Cycle of Fire, and Green Odyssey, Philip Jose Farmer's first published book. I've seen multiple copies of all those (even the asbestos Fahrenheit 451) offered up for sale or auction, but never Shadows in the Sun (Heritage offered up a jacketless copy a few years back). I don't think seen a jacketed copy for sale or auction anywhere in the last 20 years.
Hell, as far as I can tell, Texas A&M's Cushing library, to which Chad donated his books and papers, doesn't even have a copy of the hardback listed among the donated material.
A conservative estimate of value is probably $2,000…
Tags: Austin, Ballantine Books, Books, Chad Oliver, First Edition, Half Price Books, Science Fiction