I ignored a couple of my own collecting rules when picking this up, namely picking up a book from before my usual collecting period, and picking up a rebound copy. However, the book in question was important enough, and the price I paid cheap enough, that I don't mind.
(Butler, Samuel). Erewhon or Over the Range. Trübner & Co., 1872. First edition hardback, a rebound copy in modern full leather (at least according to the auction description, but "modern" is a relative term; the new binding is worn enough that it appears to be at least 50 years old), original covers bound in rear of textblock, with heavy rubbing on joints and corners, hinges starting, minor scattered foxing on preliminary and terminal leaves, pages characteristically brittle, overall a Very Good rebind copy. Published anonymously, Erehwon ("nowhere" spelled backwards) is satire in the mode of Gullivers Travels, and one of the most important 19th century Utopian/Dystopian novels. Bleiler Checklist (1978), page 36. Bleiler Checklist (1948), page 68. Bleiler, SF: The Early Years, page 113. Reginald (Volume I), page 84. Barron, Anatomy of Wonder 4, 1-19. Magill, Survey of Science Fiction Literature Volume Two, page 729. Bought for $75 (including buyer's premium) from Heritage Auctions.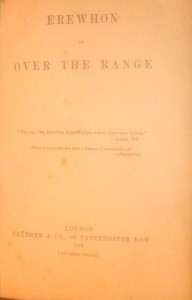 And here's a picture of the original boards bound into the back: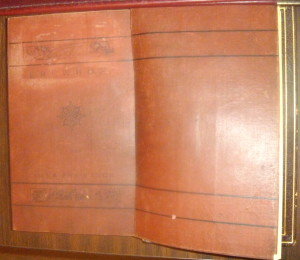 Note that E. F. Bleiler in SF: The Early Years says there was a second, corrected state printed the same year as the first edition. I have been unable to find points that distinguish between the first and second state, and the original boards bound into my edition seems to match those first editions copies I've been able to locate online.
I believe this is now the oldest book in my library, replacing a first edition of Camille Flammarion's Urania (1890). Next oldest would be my first editions of Robert W. Chambers' The King in Yellow and H. G. Wells' Select Conversations with An Uncle (Now Extinct), both 1895.
Tags: Books, First Edition, Samuel Butler, Science Fiction