One of my favorite authors is Gene Wolfe (which you might have noticed before), so naturally I've tried to collect all his books. This includes all his chapbooks, some of which can be quite difficult to find.
Among his hardest to find are the ones he did for Cheap Street. Over the years I have picked up four of the five pure chapbooks done by them (as well as the two hardback books, Empires of Flowers and Foliage and Bibliomen), but frequently I would have trouble remembering which of them I have, a difficulty not aided by rather bland exteriors of the chapbooks themselves and the fact that all came in a standard Cheap Street envelope when I bought them, none of which revealed what was inside.
So, for both the sake of Gene Wolfe collectors, and to jog my own memory, I've scanned the title pages of each of the ones I have (click to embiggen):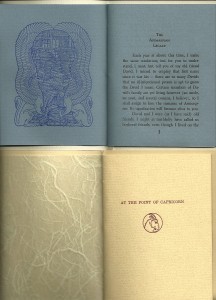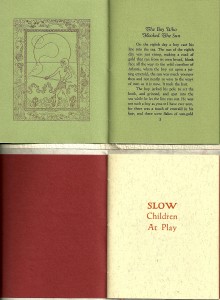 Or, to list them in order of publication:
Wolfe, Gene. At the Point of Capricorn. Cheap Street, 1983.
Wolfe, Gene. The Boy Who Hooked the Sun. Cheap Street, 1985.
Wolfe, Gene. The Arimaspian Legacy. Cheap Street, 1988.
Wolfe, Gene. Slow Children at Play. Cheap Street, 1989.
I think I paid in the $35-$40 range for each of those.
Chalker and Owings says that seven copies of each of the above were done as leather-bound hardbacks. Not only do I not have those, I don't think I've ever seen any of them offered for sale.
As far as I can tell, I'm only missing two Wolfe chapbooks now:
Wolfe, Gene. The Old Woman Whose Rolling Pin Was the Sun. Cheap Street, 1991.
Wolfe, Gene. The Grave Secret. The Pretentious Press, 1991.
I'll have to add those to the want list.
I think I have a first edition hardback of every other Gene Wolfe book.
More about Cheap Street here.
Tags: Book Collecting, Books, chapbooks, Cheap Street, First Edition, Gene Wolfe