Actually more like two-and-a-half collections with some odd additional material. All these were left over from other National Book Auction lots and, after checking them out, I decided to incorporate them into my library for, essentially, free. (There were several books from those lots I'm passing on, so each of these looked to have some point of interest.)
Bullock, Michael. Green Beginning, Black Ending: Fables. Sono Nis Press, 1971. First edition hardback, a Very Good+ copy with slight wear to boards at head and heel, dusty page block at head, and small triangular abrasion to top front right board in a Very Good- dust jacket with spine fading, significant creasing and rubbing to top of front cover, 1/2″ semi-closed tear at top front fold, blindside tape at head and top front fold, and general wear. Inscribed by Bullock on the FFE: "With good wishes from/Michael Bullock 2.8.71." There's also what appears to be a stock number, a price, and "with odd vampire vignette" all in pencil, the last presumably from the vampire and werewolf collector whose collection this came from. Supposedly surreal stories by someone more famous as a translator and poet. Only two copies on Bookfinder, neither signed. Not in in Carter's The Vampire in Literature, Bleiler's Supernatural Fiction, Reginald, or, probably, anything else.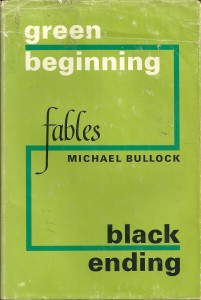 James, M. R. (Peter Haining, editor). The Book of Ghost Stories. Stein and Day, 1982. First American edition (this appears to be a reprint of the UK Book of the Supernatural (with the same contents) from 1979), a Fine- copy with slight wear at points in a Very Good dust jacket with significant rubbing to rear cover. A collection of some of James' previously uncollected short stories, plus commentary on his work by various writers, Christopher Lee, etc., and even an anonymous piece, "The Vampire of Kring," that James believed formed the basis of Bram Stoker's Dracula. Looks like an interesting miscellany in a book I probably couldn't sell, so…
Pei, Mario A. Tales of the Natural and the Supernatural. Devin-Adar, 1971. First edition hardback, a Fine copy in a Fine dust jacket. Short story collection by this noted Italian-American linguist and writer. Includes "The Sparrows of Paris" (see Bleiler, Supernatural Fiction, 1298), a short werewolf novel. Reginald, 11279.