Here are some pics from the section of my reference library where I keep contributor copies of publications my work has appeared in. Before the contributor copies, there are several book auction catalogs (including from the auctions I covered here), as well as some old S. M. Mossberg and L. W. Currey book catalogs of interest. After that the actual contributor copies start. You should be able to figure out what these are from my bibliography. The exception is the black tape-bound volume on the first shelf, which is a compilation of materials handed out for a Danish class on science fiction which includes my review of Donnie Darko. I have so many copies of Jim Baen's Universe because FACT had boxes to give away at the 2008 Nebula Awards here in Austin and I snagged some leftovers.
As usual, click to embiggen.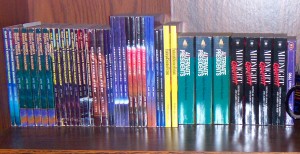 I have a few of these available for sale through Lame Excuse Books as well.
Previous entries on my reference library can be found here and here.
Tags: auction, book auction, Books, Fantasy, First Edition, Heritage Auctions, Horror, Library, pics, Professional Library, reference works, Science Fiction